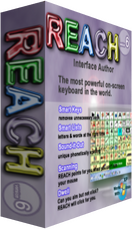 Communicate

Engage

Relate

Customize REACH Interface Author by selecting any of the following productivity add-ons. Select more than one add-on and receive a special discount (see shopping cart).
Communicating

with family and friends is easy with REACH. REACH speaks as you type or after you're finished typing. You can highlight text virtually anywhere on the screen and have it read back to you.

What's more, you can use REACH's new

Smart Speech

add-on to use the ultimate in augmentative communication.

Using REACH's on-screen keyboards, you can use Twitter®, Facebook®, blog, email, or instant messaging!

Using current social media tools is easier with REACH and can help you stay connected with friends and family!

REACH is adaptive technology. REACH adapts to how you use the mouse or pointer. Can't click? Do you tend to make extra clicks? No problem, REACH can help!

REACH can help you click by using a feature called

Dwell

. Or, you can filter out unwanted clicks and reduce missed targets by using our

ClickAssist

.

REACH comes with many keyboard layouts including some game keyboards. In addition, you can customize almost every REACH keyboard or make your own.

REACH makes customization quick and easy with Hot Authoring. In addition, the keyboard authoring tool in REACH allows you to customize keyboards for the ultimate in personalization.

REACH's full-featured word prediction make's entering text quicker, easier, and more accurate.

For even more improvements in keyboarding, check out REACH's add-on features:

Smart Keys Smart Lists

There are so many REACH features to learn about. REACH's comprehensive set of features means you don't have to buy multiple products to meet your assistive technology needs.

REACH's newest add-on feature is Smart Speech. This product includes a set of special keyboards and dictionaries that are targeted for users who need a comprehensive speech augmentation system. By utilizing Smart Lists technology, Smart Speech can deliver an unprecedented number speech options quickly, reducing the number of clicks to create conversational sentences. REACH Smart Speech also can be used as a writing tool, because you can type your sentences into any word processor, spreadsheet, email, etc.

REACH's add-on features can help you become more efficient and productive. Most of these optional add-ons were developed through research grants funded by the National Institutes of Health. Our research led to these innovative solutions which increase typing speed and accuracy, and for most of these options, we have data showing their effectiveness.
What is Smart Lists Technology™?
Smart List is an add-on feature for the REACH Interface Author. Smart Lists is a new method for entering in text. You start off using a standard REACH on-screen keyboard but you quickly begin building words using a list of possible next letters (or "chunks" of letters).
An Example:
Let's say you want to type the word "holiday". First you type the letter 'h'. REACH then "opens up" the "h" key, showing a list of options, all beginning with the letter "h." The list can be ordered alphabetically (recommended if you are using point-and-click), or in the order of their probability (recommended if you are using scanning). From that list, you select the "ho.." option, then the "hol.." option, and then the word "holiday" from the resulting list of words. You typed the entire key by never leaving the "h" key location. This is an especially powerful approach for people using scanning because they only use one click to select an item from a list, where they would have to use two clicks (one for the row and one for the key), if they were using row-column scanning. It also is much faster because the items are offered in the order of their probability.
REACH with Smart Lists
As you can see from the above example, Smart Lists is a very different way to type, but it works. The reason it is so powerful is because it simplifies the task of building a word. Lets look at the kinds of tasks a user normally has to do when using an on-screen keyboard.
Decide on the word you want to type.
Mentally determine the first letter in the word.
Visually find the location of that letter on the keyboard.
Physically select that letter.
Visually check the document to see that the letter was typed.
Visually check word prediction to see if the word you want is in the list.
If it is there, physically select the word and you're done!
If it is not there, repeat last six steps for each of the remaining letters.
Here, the task of spelling out a word involves much more than spelling. It involves a series of mental, visual, and physical activities. These tasks are quite disjoint and over time, produce, mental, visual, and physical fatigue.
Smart Lists Makes it Easier to Type
Smart Lists organizes all the letters into a kind of "menu" structure. The different tasks are reduced and unified. Here's how you type with Smart Lists:
Decide on the word you want to type
Mentally determine the first letter in the word.
Visually find the location of that letter on the keyboard.
Physically select that letter and a list of "possible next letters" appears at that location.
Mentally determine the next letter in the word.
Visually scan the list to recognize the next letter or group of letters in your word
Physically select that letter or group of letters
Repeat the process for last three steps for each of the remaining letters.
When you select a letter, you know that it made it to the application because a new list appears showing what has been typed. Also, for lots of people, visually scanning a list that is alphabetically ordered is faster than scanning a two-dimensional matrix of keys. In addition, the list appears at the location of the letter you just typed, so the amount of eye movement is reduced. Most important, the list only contains those options that make sense given the letters you have already typed - it is like Smart Keys has been organized and alphabetically listed. The average distance required to move the mouse cursor from list item to list item is shorter than the average distance to move from key to key on the REACH keyboard. Finally, as you type more letters, words will start appearing in the list - so word prediction is moved from a distant location to the space where you have been building the word, and the average distance you have to move to select the word is decreased.
REACH with Smart Lists: the Ultimate Scanning Advantage
Scanning is a terribly slow method for entering text, but operating a switch is often the only thing a user can do. With Smart Keys, users can improve their typing rate. But with Smart Lists, users can improve even more on their typing rate; reduce the number of clicks they have to perform (one click to select from a list, two clicks to select a row and a column); and simplify the mental, visual, and physical tasks involved.
A Case for Smart Lists
Simulations for standard scanning have shown that if you could continually re-arrange all the keys on the keyboard so that the most likely key is the first key in the first row and that other likely keys were positioned in the early rows and columns, you would be able to drastically improve the typing rate.
The reason that is so effective is because you are doing "letter" prediction and moving the most likely next letters into the locations that are the fastest to get to in the row-column scanning pattern.
The major reason that this method is not used in on-screen keyboards is that humans tend to like things in the same location and re-arranging the letters might cause undue mental fatigue or confusion because the user would have to visually search the keyboard after each typed letter because the letter locations have changed.
Smart Lists Is Better than a Typical Row-Column Keyboard
Smart Lists exploits letter prediction, but uses a method that is more predictable and with fewer/no negative side effects. Instead of rearranging all the keys on the two-dimensional keyboard, Smart Lists re-arranges the keys into a single list. Visually searching a single list is simpler task than searching a two-dimensional matrix of keys, and all you have to do is wait until your letter is illuminated, and then click one time per letter. In research conducted by Applied Human Factors, Smart Lists has been shown to significantly reduce the number of clicks required while simultaneously significantly increasing typing rate.
Coalesce Mental Tasks
Another very important issue, is that in many educational settings, students using switch scanning are repeatedly encouraged to visually search the word prediction options being presented because it would speed them up if the target word were there. This definitely is true, but visually scanning the word prediction window competes with the other visual and mental tasks required while using scanning, and potentially work against users because, for example, they could miss the row with the next letter in their target word while studying the word prediction options. This outcome is quite possible because the target word often is not listed in the word prediction window, and might even be so far down the list of probable words that it could be better to just continue typing letters a while.
With Smart Lists, you don't need an external word prediction window because probable words eventually are offered right in the Smart List. Smart Lists not only offers you letters, it offers you letter "chunks" representing a portion of a word. In addition, after two or three letters, most of the time Smart List produces a list containing the target word.