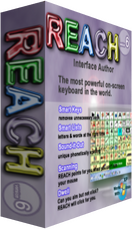 Communicate

Engage

Relate

Customize REACH Interface Author by selecting any of the following productivity add-ons. Select more than one add-on and receive a special discount (see shopping cart).
Communicating

with family and friends is easy with REACH. REACH speaks as you type or after you're finished typing. You can highlight text virtually anywhere on the screen and have it read back to you.

What's more, you can use REACH's new

Smart Speech

add-on to use the ultimate in augmentative communication.

Using REACH's on-screen keyboards, you can use Twitter®, Facebook®, blog, email, or instant messaging!

Using current social media tools is easier with REACH and can help you stay connected with friends and family!

REACH is adaptive technology. REACH adapts to how you use the mouse or pointer. Can't click? Do you tend to make extra clicks? No problem, REACH can help!

REACH can help you click by using a feature called

Dwell

. Or, you can filter out unwanted clicks and reduce missed targets by using our

ClickAssist

.

REACH comes with many keyboard layouts including some game keyboards. In addition, you can customize almost every REACH keyboard or make your own.

REACH makes customization quick and easy with Hot Authoring. In addition, the keyboard authoring tool in REACH allows you to customize keyboards for the ultimate in personalization.

REACH's full-featured word prediction make's entering text quicker, easier, and more accurate.

For even more improvements in keyboarding, check out REACH's add-on features:

Smart Keys Smart Lists

There are so many REACH features to learn about. REACH's comprehensive set of features means you don't have to buy multiple products to meet your assistive technology needs.

REACH's newest add-on feature is Smart Speech. This product includes a set of special keyboards and dictionaries that are targeted for users who need a comprehensive speech augmentation system. By utilizing Smart Lists technology, Smart Speech can deliver an unprecedented number speech options quickly, reducing the number of clicks to create conversational sentences. REACH Smart Speech also can be used as a writing tool, because you can type your sentences into any word processor, spreadsheet, email, etc.

REACH's add-on features can help you become more efficient and productive. Most of these optional add-ons were developed through research grants funded by the National Institutes of Health. Our research led to these innovative solutions which increase typing speed and accuracy, and for most of these options, we have data showing their effectiveness.
is file failed with ./scanningfeautres.php