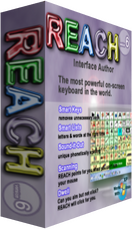 Communicate

Engage

Relate

Customize REACH Interface Author by selecting any of the following productivity add-ons. Select more than one add-on and receive a special discount (see shopping cart).
Communicating

with family and friends is easy with REACH. REACH speaks as you type or after you're finished typing. You can highlight text virtually anywhere on the screen and have it read back to you.

What's more, you can use REACH's new

Smart Speech

add-on to use the ultimate in augmentative communication.

Using REACH's on-screen keyboards, you can use Twitter®, Facebook®, blog, email, or instant messaging!

Using current social media tools is easier with REACH and can help you stay connected with friends and family!

REACH is adaptive technology. REACH adapts to how you use the mouse or pointer. Can't click? Do you tend to make extra clicks? No problem, REACH can help!

REACH can help you click by using a feature called

Dwell

. Or, you can filter out unwanted clicks and reduce missed targets by using our

ClickAssist

.

REACH comes with many keyboard layouts including some game keyboards. In addition, you can customize almost every REACH keyboard or make your own.

REACH makes customization quick and easy with Hot Authoring. In addition, the keyboard authoring tool in REACH allows you to customize keyboards for the ultimate in personalization.

REACH's full-featured word prediction make's entering text quicker, easier, and more accurate.

For even more improvements in keyboarding, check out REACH's add-on features:

Smart Keys Smart Lists

There are so many REACH features to learn about. REACH's comprehensive set of features means you don't have to buy multiple products to meet your assistive technology needs.

REACH's newest add-on feature is Smart Speech. This product includes a set of special keyboards and dictionaries that are targeted for users who need a comprehensive speech augmentation system. By utilizing Smart Lists technology, Smart Speech can deliver an unprecedented number speech options quickly, reducing the number of clicks to create conversational sentences. REACH Smart Speech also can be used as a writing tool, because you can type your sentences into any word processor, spreadsheet, email, etc.

REACH's add-on features can help you become more efficient and productive. Most of these optional add-ons were developed through research grants funded by the National Institutes of Health. Our research led to these innovative solutions which increase typing speed and accuracy, and for most of these options, we have data showing their effectiveness.
What is Scanning?
If you're familiar with scanning in the context of on-screen keyboards, you can move to the next section; however, you still might want to check out this section because of some of the new and unique features REACH offers for scanning. Scanning is a method for users who cannot use a mouse to point and click on some target on the screen.
REACH's Scanning Capabilities are Second to None!
REACH's Scanning Features are comprehensive. You get:

Single, dual, and inverse-single switch scanning options.
Auditory scanning capabilities with customizable speech output.
Intelligent row stepping - no automatic repeating of a row when you miss a key unless you want to.

Amazing Undo

- SAVE TIME, make scanning faster, and don't worry about mistakes!
Smart Keys and Smart Lists - Add-on features which have been shown to significantly increase typing speed.
Read on to learn more about these features.
Scanning Methods
On a keyboard, scanning typically consists of illuminating a group of keys and giving the user a certain amount of time to select that group by using a simple switch. The general pattern is that rows of keys are offered until a row is selected, and then the keys in that row are offered until the desired key is selected. For that reason, scanning often is called "row-column" scanning. The user first operates the switch when the row containing the target letter is offered; then the user operates the switch a second time to select the individual key to be typed. Both rows and keys are offered for a period of time adjusted to that user's ability to 1) find the letter to be typed and 2) operate the switch once the row or key are offered for selection. Scanning typically advances in a predetermined manner. When a user just operates a switch to make a selection, it typically is called "Single Switch Scanning", and is typically quite slow and mentally tedious.

There are other methods of scanning too. For example, if a user is able to operate two switches, then instead of the software advancing to another group of keys after a period of time, the user operates one of the two switches to advance from row to row or from key to key within a row, and the second switch to make a selection. This has the advantage of allowing users to advance to the next option at their own pace.
There are other scanning methods but these are the most common.
Why REACH's Undo For Scanning is so Important
Let's face it, scanning is terrible! Scanning is a slow method for entering text and communicating, but its the only method possible for some users. We know how difficult scanning can be and we know how tiresome it can become. While we can't fix the problem entirely, we have done some amazing things that can really help.
Scanning Gotcha's
Let's talk about scanning as a solution for people who can't use a mouse or other pointer to point and click. Scanning is tricky, somewhat difficult and tiresome for the users. There are many ways a user can make a mistake while scanning. These mistakes are "costly" because not only does it affect how long a user takes to communicate, but mistakes can affect the user's morale and overall acceptance of a scanning solution.
What Types of Errors Can Be Made While Scanning?
That's right! Each of these mistakes causes a time penalty, and that can be demoralizing for the person who must use scanning.
REACH's Scanning Undo to the Rescue!
REACH has a simple and easy built-in solution to solve ALL the problems mentioned above. Its called a Scanning Undo. All you have to do is hold your switch for a certain period of time (an adjustable duration that is longer than a normal switch closure). Next, REACH displays a message that is appropriate for the particular situation that allows you to undo your last "error".
This means that if you:
accidentally entered a row, holding your switch allows you to immediately leave that row, saving you a lot of time.
accidentally missed a key while in the right row, holding your switch allows you to leave that row immediately.
accidentally clicked the wrong key, holding your switch removes (undoes) the wrong letter that was just typed.
accidentally clicked the wrong word in word prediction, holding your switch removes (undoes) all of the wrong letters just typed.
Isn't that amazingly simple? We know you'll love this feature if you use scanning.
With Scanning Undo You Can Increase Typing Speed
The time penalties for scanning errors described above probably are the main reason scanning takes so long. Possibly worse than that, the fear of making those mistakes has got to contribute to anxiety and apprehension in the people using this method. With REACH Scanning Undo mistakes are not as penalizing, so you can scan faster and not worry so much about a making errors.
Scanning Smart Keys™ and Smart Lists
Smart Keys™ is a powerful add-on for REACH™ that, in a research study, was found to increase typing rate by 41%. Smart Lists is an another amazing add-on technology for REACH that reduces the number of clicks required by more than half and increases speed beyond Smart Keys™! If you want to learn more about how each of these technologies can help improve the typing rate of scanning click here.