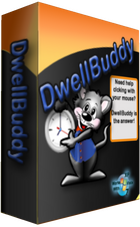 Just aim your mouse and DwellBuddy does the rest!
DwellBuddy - a Better Mouse-Click Emulator
Simplicity
DwellBuddy's installation is a snap. In no time, you'll be able to just aim your mouse and DwellBuddy will click for you. DwellBuddy has an intelligent calibration feature that evaluates your steadiness and determines the "right amount" of smoothing to apply to your mouse movements.
How Does it Work?
Aim Your Mouse
DwellBuddy waits until you've settled on a point of interest with your mouse. After a customizable period of time, DwellBuddy generates a click, double click or drag depending on your selection.
How does DwellBuddy know whether to click or do something else?
DwellBuddy uses intelligent analysis of your mouse movements. If DwellBuddy detects that you are pointing at a target where a click is the only good choice, then DwellBuddy will just click for you. However, if there are other reasonable possibilities - like dragging or double clicking, then a menu is displayed where you can dwell on the kind of mouse operation you want.
Download DwellBuddy and give it a try...